Principal's Corner
8 months ago
August 11, 2017
Dear Parents and Guardians,
As Principal of Jonesboro Elementary School, it is my pleasure to welcome everyone back for another great year. We are all excited to have students back in our classrooms and hallways filling them with energy and enthusiasm for learning. It is our mission to help every child feel welcomed, connected and a part of our Jonesboro Elementary School family. Additionally, we strive to challenge each student to grow in his or her academic abilities preparing them for high school and beyond. At Jonesboro Elementary School, we have great teachers who spend hours planning and creating classroom activities to engage our students in learning. Our teachers utilize research-based best practices and analyze academic data to determine current skill levels and set goals for growth and improvement. We believe that all students should graduate from Jonesboro Elementary School with the tools necessary to excel in their high school career.
The scope and magnitude of our responsibilities to our students, their parents and the community are infinite. Our words, actions and inactions have a profound impact on the lives we are responsible for. It is imperative that we offer nothing less than our best every day to succeed in providing everything we can in making a difference. Jonesboro Elementary School is committed to providing the best curriculum resources, updating facilities and maintaining a clean learning environment in order to promote a productive learning environment for all students.
Again, I welcome you back for another great year at Jonesboro Elementary School. I am honored to serve as the principal of Jonesboro Elementary School. It is truly a privilege to be a part of a community where parents, teachers and students care for each other and strive to build positive relationships that support academic and social growth. If I can be of assistance as the year goes by, please feel free to contact me at 618-833-5148 or at tstark@jonesboro43.com
Sincerely,
Tom Stark
JGS Principal
JGS Tech Team
7 months ago
Congratulations to these students who are the newest members of the JGS Tech Team:
6th Grade
Cadence Black, Liam Hale, Alicia Hernandez, Genesis Martin, Jason McAlister
7th Grade
Austin Adams, Lily Baker, Reagan Brough, Natalie Lovsey, Isabel Tehandon, Sydney Waun
8th Grade
Trevor Cochran, Abbigail Dahmer, Alli Toler, Joey Sullivan
Student Life
7 months ago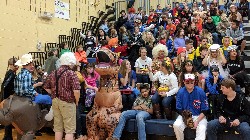 JGS Students Are Super(heroes)!
On Thursday, Oct. 12th, AJ Lady Wildcat Volleyball hosted Paws for a Cause All-Cancer Awareness Night. The volleyball team sponsored a local girl, 3 year old Blakeleigh Grace, who is currently fighting her own battle against cancer. JGS students Marlee Smith, Lily Baker, and Kaya Coleman caught word that little Blakeleigh loves superheroes! So, the girls attended the celebration in costume and surprised Blakeleigh with bags of goodies and a photo opp. Blakeleigh was the sweetest, most thankful little girl . . . in our eyes, she's the real superhero!
Jonesboro Fall Festival Royalty
Congratulations to the 2017 King and Queen, Mason Watkins and Natalee Brown. Once again, this year saw a large crowd enjoying games, raffles, silent auction, and haunted science lab. The evening ended with the announcement of the new King and Queen (Mason Watkins and Natalee Brown) and a junior high dance.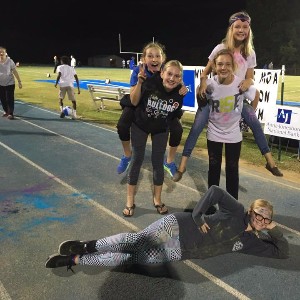 Highlights from SIT 2018
4 months ago
The 2018 Students Involved with Technology Conference was held at JGS on February 10th. We hosted 10+ school districts and nearly 100 attendees! This conference featured students as the presenters with sessions on such topics as LEGO Robotics, Digital Art, Printing Power, Make & Take Catapults, VR with Oculus, and much more!
This event would not have been possible without the help of community sponsors who donated prizes, food, and money to help us out. A BIG THANK YOU to these sponsors: A-J National Bank, Anna State Bank, Tech Guy Consulting, Masters Choice, Country Financial, Union County Farm Bureau, Southern FS, Save-a-Lot Jonesboro, Casey's General Store Jonesboro, BJ Foods Dongola, Moreland Eye Care, and the ladies of First Baptist Church Jonesboro.

We also had a terrific crew of volunteers who helped with everything from planning, logistics, set up, security, monitoring sessions, clean up, and so much more. Planning Committee and Volunteers were: Jama Eddleman - Jonesboro Grade School, Stephanie Hill - Jonesboro Grade School, Mindy Fiscus - Learning Technology Centers of Illinois, Butch Wilson - Christopher #99 School Dist., Steve Carrington - Murphysboro CUSD #186, Kristi Stout - U of I Extension/4-H, Dena Wood, U of I Extension/4-H, Stephanie Rhodes - Union County Farm Bureau, Danielle Stevens - Country Financial, Charley Cass - Central Jr. High West Frankfort, Kurt Strothmann - EdTech Advocate, Ann Oswalt - Robinson, IL, Haibo Wang - SIU Carbondale, Karen Gallegly - Lewis School, Karen Frick - Anna District #37, Jenny Granados - Southern Illinois Healthcare, and Jamie Modesto, Qlik.
Last, but not least, thank you to Mr. Mark Kirk from Masters Choice for being our keynote speaker. Mr. Kirk kicked off the day by explaining the role of technology in all areas of agriculture. The use of technology in agriculture has led to higher crop yields, improved food sources, finds ways of helping ag producers be more environmentally conscious, and more. Thank you Mr. Kirk!
Now, enjoy some of the photo highlights from SIT 2018 Jonesboro!